Award winning columnist Joe Klein  writes the following:
As Karen notes below, Senator Tom Coburn from Oklahoma–who, with James Inhofe, constitute the most extreme Senate delegation from any state–prayed for the incapacitation or death of a Democratic Senator so that health care would be blocked.
Sounds absolutely terrible, doesn't it?  This Coburn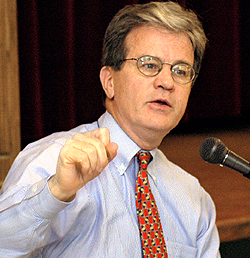 guy must be a really terrible fellow… Except, of course, that's not what Coburn said.  Here are his actual words:
What the American people ought to pray is that somebody can't make the vote tonight.
Now you can certainly interpret those words as Klein did, but when you're a respected journalist you don't get to simply assume the worst about people and move on.  You're supposed to provide as accurate and balanced reading of events as possible — even if you're just blogging.
Klein, of course, is a huge fan of health care "reform."  One of his favorite provisions is the individual mandate, which he argues will force young, healthy people to buy insurance they wouldn't otherwise purchase, lowering costs for everyone else.  What he doesn't mention is a less popular, but economically equivalent way of achieving the same outcome:  instead of forcing young people to purchase something they don't want, we could just have an "under 30 tax" and distribute the proceeds to the rest of the population.  That way people who are early in their careers and suffering under a mound of student debt could be saddled with yet another financial obligation, for the benefit of those with much higher salaries.  I know the AARP thinks it's a great idea.